India Innovation Index by NITI Aayog: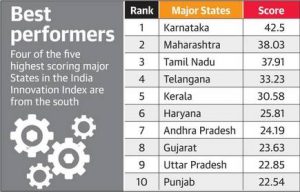 The second edition of the NITI Aayog's India Innovation Index has been released.
Performance of various states:
Karnataka is the most innovative state for the second year in a row.
Maharashtra pipped Tamil Nadu to the second spot.
Bihar was featured at the bottom of the list.
About the index:
The index attempts to create an extensive framework for the continual evaluation of the innovation environment of states and union territories in India and intends to perform the following three functions:

Ranking of states and UTs based on their index scores.
Recognizing opportunities and challenges.
Assisting in tailoring governmental policies to foster innovation.

The Index is calculated as the average of the scores of its two dimensions – Enablers and Performance.
The Enablers :
They are the factors that underpin innovative capacities, grouped in five pillars: (1) Human Capital, (2) Investment, (3) Knowledge Workers, (4) Business Environment, and (5) Safety and Legal Environment.
The Performance :
Are dimension captures benefits that a nation derives from the inputs, divided in two pillars: (6) Knowledge Output and (7) Knowledge Diffusion.