Marketing And Logistics Development For Promotion Of Tribal Products From North-Eastern Region (PTP-NER) Scheme: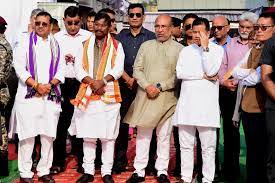 PTP-NER Scheme has been introduced for the benefit of Scheduled Tribes of the North-Eastern Region.
Vision is to strengthen livelihood opportunities for tribal artisans through increased efficiency in procurement, logistics and marketing of tribal products from North Eastern States.
It will apply to the States of Arunachal Pradesh, Assam, Manipur, Meghalaya, Mizoram, Nagaland, Tripura and Sikkim.
As part of the scheme, it is planned to initiate the empanelment of tribal artisans from the North Eastern Region by organizing 68 Tribal Artisan Melas (TAMs) in various districts of the region.
The TAMs will be organised in consultation and support of District Administration and other relevant organisations/ departments working in the field etc.
The programme also includes regular Design & Skill Development training sessions tailored to the needs of the market for tribal recipients.
North Eastern Handicrafts and Handlooms Development Corporation (NEHHDC), India Post under the Department of Posts, and other North Eastern State Government Departments/ Agencies.
India Post will provide logistics support in order to meet the scheme's goals.