India Internet Governance Forum (IGF): Three Day Event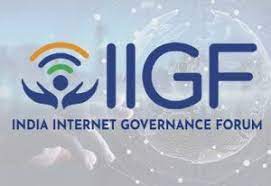 The India Internet Governance Forum (IGF), a multi stakeholder platform, is conducted a three-day hybrid event from December 9 to December 11, 2022.
The India Internet Government Forum is an initiative associated with the UN Internet Governance Forum (UN-IGF).
The Internet Governance Forum (IGF) is a multi-stakeholder platform bringing representatives together from various groups, all at par to discuss public policy issues related to the Internet.
The event's goal is to discuss the roadmap to digitization and to reaffirm India's place on the global stage by emphasising its role and importance in international policy development on internet governance.
Theme of IIGF 2022: 'Leveraging Techade for Empowering Bharat'.
India Internet Governance Forum(IIGF) has been constituted in conformance to IGF-Paragraph 72 of the Tunis Agenda of the UN-based Internet Governance forum (IGF).