2nd India-Nordic Summit: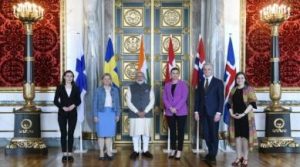 Prime Minister Narendra Modi participated in the 2nd India-Nordic Summit along with Prime Ministers of Denmark, Iceland, Norway, Sweden and Finland.
The Summit provided an opportunity to review the progress of the India-Nordic relations since the 1st India-Nordic Summit, which was held in 2018 in Stockholm.
Prime Minister Modi invited Nordic companies for investing in the Blue Economy sector, especially in India's Sagarmala project.
India's partnership with the Nordic region in the Arctic Region was discussed. Prime Minister noted that India's Arctic Policy provides a good framework for expansion of India-Nordic cooperation in the Arctic region.
Prime Minister invited the sovereign wealth funds of the Nordic countries to invest in India.
The Nordic Countries reiterated their support for India's Permanent Membership of a reformed and expanded Security Council.
India and the Nordic countries were committed to follow up on the historic decision at UNEA 5.2 for negotiating an international legally binding instrument to end plastic pollution with an ambition to completing the work by 2024.