Saudi Arabia Foreign Minister's Visit: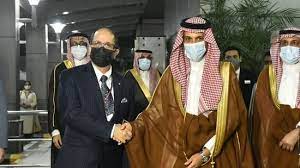 The Indian External Affairs Minister met the Foreign Minister of the Kingdom of Saudi Arabia.
About the Meeting:
Cooperation in Multilateral Forums: Discussed bilateral cooperation in multilateral forums such as the United Nations, G-20 and Gulf Cooperation Council (GCC).
India is not a member of GCC.
Implementation of the Strategic Partnership Council Agreement (signed in 2019):

India-Saudi Strategic Partnership Council was formed to coordinate on strategically important issues.
The council will be headed by the Prime Minister and Crown Prince Mo hammed and will meet every two years.
India is the fourth country with which Saudi Arabia has formed such a strategic partnership, after the UK, France and China.
Saudi Arabia has been a strategic partner of India since the signing of the Riyadh Declaration in 2010.
Focus on the Developments in Afghanistan and Other Regional Issues: Saudi Arabia, along with Pakistan and the UAE, were the key backers of the Taliban regime that ruled Kabul from 1996 till 2001 when they were ousted by US-led international troops.

Strengthening Partnership: Discussed further steps to strengthen their partnership in trade, investment, energy, defence, security, culture, consular issues, health care, and human resources.