National Intelligence Grid (NATGRID) : Bengaluru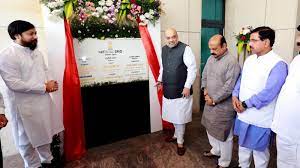 Union Minister for Home and Cooperation Amit Shah inaugurated the National Intelligence Grid (NATGRID) campus in Bengaluru.
The NATGRID CEO informed that the services of NATGRID solution will be available to 11 central agencies and police of all States and Union Territories.
It will link user agencies with data holders, giving them access to real-time information needed for intelligence services and investigations.
C-DAC Pune has been roped in as Technology Partner and IIT, Bhilai as Plan Management Consultant for the development of NATGRID solution.
The National Intelligence Grid or NATGRID is the integrated intelligence master database structure for counter-terrorism purpose connecting databases of various core security agencies under Government of India collecting comprehensive patterns procured from 21 different organizations that can be readily accessed by security agencies round the clock.
NATGRID came into existence after the 2008 Mumbai attacks.