India-Us Defence Deal: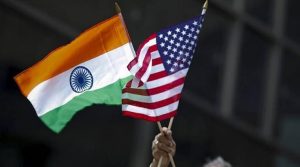 The Ministry of Defence has signed a deal with the US Government for procurement of MK 54 Torpedo and Expendable (Chaff and Flares) for the Indian Navy, under Foreign Military Sale (FMS).
FMS is the U.S. Government's program for transferring defense articles, services, and training to its international partners and international organizations.
Expendables are something which can be consumed or used during flight and can not be recovered.
MK 54 Torpedo:
It is a cigar-shaped, self-propelled underwater missile, launched from a submarine, surface vessel, or airplane and designed for exploding upon contact with the hulls of surface vessels and submarines.
The MK 54 uses sophisticated processing algorithms to analyze the information, edit out false targets or countermeasures, and then pursue identified threats.
The primary use of this equipment is for offensive purposes when deployed by anti-submarine warfare aircraft and helicopters, and for defensive purposes when deployed by ships and against fast, deep-diving nuclear submarines and slow-moving, quiet, diesel-electric submarines.
India intends to use the Mk 54 torpedoes on its P-8I patrol aircraft.