Indian Air Force : New Ensign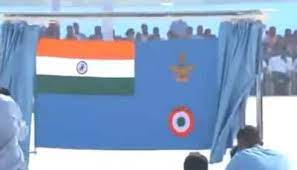 Indian Air Force (IAF) Chief Air Chief recently unveiled a new Ensign for the force.
Only the IAF Crest will be incorporated into the new IAF Ensign.
This crest prominently features the national symbol, the Ashoka Lion, at the top, with the words "Satyamev Jayate" in Devanagari script below it.
Beneath the Ashoka Lion is a Himalayan eagle with outstretched wings, symbolising the fighting spirit of the IAF.
A ring in light blue colour encircles the Himalayan eagle with the words "Indian Air Force".
The IAF motto, derived from the Bhagavad Gita, "Nabha Sparsham Deeptam", meaning "touching the sky with glory," is inscribed below the Himalayan eagle in golden Devanagari.
IAF crest symbolises the source of inspiration and encouragement.
IAF has adopted various crests for commands, squadrons and the other establishments.
However, all the crests follow a standard frame that contains the individual formation sign with a motto shown in the scroll at the foot of the frame.