Kampala Declaration On Climate Change: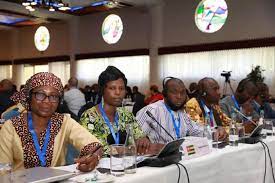 A significant step has been taken by 48 African countries to adopt the Kampala Ministerial Declaration on Migration, Environment, and Climate Change (KDMECC) to address the interconnection between human mobility and climate change on the continent.
The decision was discussed at a Conference of States co-hosted by Kenya and Uganda.
The initiative was supported by the International Organization for Migration (IOM) and the UN Framework Convention on Climate Change (UNFCCC).
IOM was born in 1951 out of the chaos and displacement of Western Europe following the Second World War.
Africa is highly vulnerable to climate change's impacts, leading to increased migration due to extreme weather events.
KDMECC Originally signed by 15 African states in Kampala, Uganda, in July 2022.
The KDMECC-AFRICA is expected to be signed by Member States during the Africa Climate Summit in Nairobi on September 4, 2023.
The Declaration is the first comprehensive, action-oriented framework led by Member States to address climate-induced mobility in a practical and effective manner.
The KDMECC-AFRICA will ensure that all voices, including those of youth, women, and persons in vulnerable situations are the priority of the expanded declaration.