Critical Infrastructure Development In Arunachal Pradesh: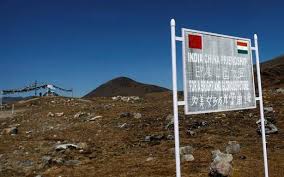 The Union government approved more than Rs 1,100 crore for critical infrastructure development in Arunachal Pradesh.
The Cabinet Committee on Security (CCS) also cleared a proposal for the construction of 32 roads under phase II of the Indo-China Border Roads (ICBR) scheme.
Earlier, the government followed a restrictive policy, and areas along the China border were not developed much.
Critical Infrastructure Development in Arunachal Pradesh:
Most projects have been earmarked in areas along the China border in the north and northeast part of Arunachal.
It includes motorable roads, mule tracks, and facilities for porters. It envisages the construction of roads and 18 foot-tracks measuring 598 km.
This will enhance the capabilities of the Indo-Tibetan Border Police (ITBP), which maintains vigil along the border.
These tracks can be used by the Army to supplement the main border roads for transportation of men and material.
Indo-China Border Roads Scheme:
The first phase was initiated in 2005 when it was decided that the Ministry of Home Affairs (MHA) would construct 27 priority roads totaling 608 km along with China areas at an estimated cost of Rs. 912 crore and other 14 roads will be built by agencies such as the Border Roads Organisation (BRO).
Some of the important projects include the Darbuk-Shayok-Daulat Beg Oldie (DS-DBO) road and Rohtang tunnel in the Ladakh; and in the northeast, the Sela Tunnel and a road and rail tunnel under the Brahmaputra river with Indian Railways.
Under phase II of the Indo-China Border Roads (ICBR) scheme, the roads, measuring 638.12 km and amounting to Rs. 12,434.90 crore, are to come up in Ladakh, Himachal Pradesh, Uttarakhand, Sikkim and Arunachal Pradesh.