India's First Cryptogamic Garden: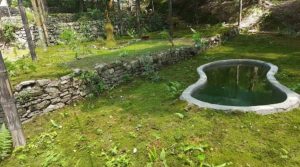 India's first cryptogamic garden was inaugurated in the Chakrata town of Dehradun, Uttarakhand.
The garden will be housing nearly 50 species of lichens, ferns and fungi (collectively known as Cryptogamae).
Factors Responsible for Location of this Garden:
This garden is at Deoban in Chakrata at a height of 9,000 ft.
This site is chosen because of its low pollution levels and moist conditions which are conducive for the growth of these species.
Further, Deoban has pristine majestic forests of Deodar and Oak which create a natural habitat for cryptogamic species.
Cryptogams:
A cryptogam is a plant that reproduces with the help of spores.
The word "Cryptogamae" implies 'hidden reproduction', referring to the fact that they do not produce any reproductive structure, seed, or flower.
Due to this, they are called "flowerless" or "seedless plants" or 'lower plants'.
They need a moist environment to survive.
These are present in aquatic and terrestrial places.
Algae, bryophytes, lichens, ferns and fungi are the best-known groups of cryptogams.