India Young Water Professional Programme: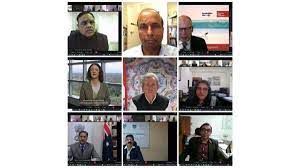 The Ministry of Jal Shakti has launched the first edition of the India Young Water Professional Programme.
Its launch marks a significant milestone in Australia-India Water relationship. This Programme looks to prepare future water leaders.
This program has been taken up under the National Hydrology Project. It will be implemented by Australia India Water Centre (a consortium of Australian and Indian universities).
It is focused on Engaged Training and Learning Model. The Program will aim to achieve its objectives through the 70-20-10 framework, which states that three types of experience are required to learn:

Experience 70% (learn and develop on the job)
Exposure 20% (learn and develop through others)
Education 10% (learn and develop through formal training)

It also focuses on gender equality and diversity, because sustainable water management can only benefit from the views and skills of all members of society.
It is outcome-driven and the participants will be having certain tools and techniques by the time they are finished with the Programme.
Based on the success of this edition, a second phase of YWP will be planned in the later half of the year 2022.
It aims to provide a structured platform for capacity building with strategic and long-term investment to support the water management reforms in India.
To equip water professionals with the necessary skills, knowledge, behaviours and networks that will better enable them to contribute to the development and management of water resources in India, and to address the competency needs and priorities of the water sector in India.