India's Water Crisis & Women: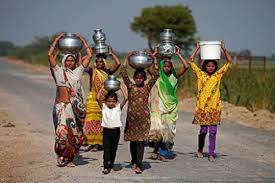 India is water-stressed due to changing weather patterns and repeated droughts. And the worst sufferers of this crisis are mostly women.
Water scarcity in India is expected to worsen as the overall population is expected to increase to 1.6 billion by the year 2050.
Although India has 16% of the world's population, the country possesses only 4% of the world's freshwater resources.
In recent times, the water crisis in India has become very critical, affecting millions of people across India.
As many as 256 of 700 districts in India have reported 'critical' or 'overexploited' groundwater levels according to the most recent Central Ground Water Board data (from 2017).
Three-fourths of India's rural families lack access to piped, drinkable water and must rely on unsafe sources.
India has become the world's largest extractor of groundwater, accounting for 25% of the total. Some 70% of our water sources are contaminated and our major rivers are dying because of pollution.