International Day Of Forests 2023: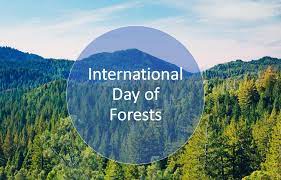 The International Day of Forests, also known as World Forests Day, is celebrated each year on March 21 to raise awareness about the importance of forests and trees for the survival of humanity and the planet.
The theme for 2023 is 'Forests and Health.'
The history of the International Day of Forests can be traced back to 1971 when the Food and Agriculture Organization of the United Nations (FAO) established World Forestry Day.
The day was established to create and raise awareness of the importance of forests for people and the planet.
In 2011, the United Nations declared the years 2011 to 2020 as the International Decade of Forests.
Its objective was to promote sustainable management, conservation, and development of all types of forests.
In 2012, the International Day of Forests was established.
Status of Forests in India:
As per the India State of Forest Report-2021, forest and tree cover in the country increased by 2,261 square kilometres since the last assessment in 2019.
India's total forest and tree cover was 80.9 million hectares, which accounted for 24.62% of the geographical area of the country.
The report said 17 States and Union Territories had more than 33% of their area under forest cover.
Madhya Pradesh had the largest forest cover, followed by Arunachal Pradesh, Chhattisgarh, Odisha and Maharashtra.
The top five States in terms of forest cover as a percentage of their total geographical area were Mizoram (84.53%), Arunachal Pradesh (79.33%), Meghalaya (76%), Manipur (74.34%) and Nagaland (73.90%).