International Kite Festival 2023 : Ahmedabad, Gujarat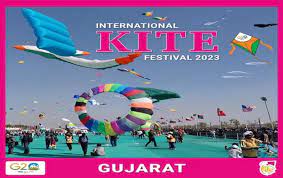 The International Kite Festival 2023 was Organised in Ahmedabad, Gujarat on January 8.
The festival is being organized by Gujarat Tourism on the G20 theme of 'One Earth, One Family, One Future.
Ahmedabad first hosted the International Kite Festival on the occasion of Uttarayan in 1989.
Apart from Ahmedabad, the International Kite festival will also be organized in Surat, Vadodara, Rajkot, Dwarka, Somnath, Dhordo, and Kevadia.
After a gap of 2 years, skies over the Sabarmati River in Ahmedabad adorned with colorful unique Kites.
More than 800 kite flyers from across India and the world participated and displayed their unique creations in this Festival.
This year, kite enthusiasts from different countries fly Kites at the same time attempting to create a Guinness World Record for the maximum number of kite flyers.
A special Parade by international and national kite flyers, a theme pavilion displaying the history of kites, and workshops on making and flying kites was among the major attractions of the festival this year.