International Tiger Day: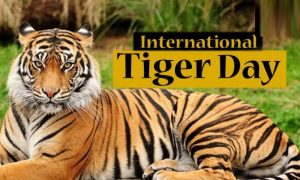 At the virtual meeting celebrating International Tiger Day (29th July), Prime Minister of India reiterated India's commitment to ensuring safe habitats for its tigers and nurturing tiger-friendly eco systems.
Also, at this meeting, 14 Tiger Reserves in India received the accreditation of the Global Conservation Assured|Tiger Standards (CAITS).
Conservation Status of Tiger:
Indian Wildlife (Protection) Act, 1972: Schedule I
International Union for Conservation of Nature (IUCN) Red List: Endangered.
Convention on International Trade in Endangered Species of Wild Fauna and Flora (CITES): Appendix I.
India's Tiger Conservation Status:
India is home to over 70% of the tiger population globally.
India is home to 51 tiger reserves spread across 18 states and the last tiger census of 2018 showed a rise in the tiger population.
India achieved the target of doubling the tiger population four years ahead of schedule (2022) of the St. Petersburg Declaration on tiger conservation.\
India's strategy of tiger conservation attaches topmost importance to involving local communities.
Conservation Assured|Tiger Standards (CA|TS).:
CA|TS has been agreed upon as an accreditation tool by the global coalition of Tiger Range Countries (TRCs) and has been developed by tiger and protected area experts.
There are currently 13 tiger range countries – India, Bangladesh, Bhutan, Cambodia, China, Indonesia, Lao PDR, Malaysia, Myanmar, Nepal, Russia, Thailand and Vietnam.
CA|TS is a set of criteria which allows tiger sites to check if their management will lead to successful tiger conservation.
It was officially launched in 2013.
The Global Tiger Forum (GTF), an international NGO working on tiger conservation, and World Wildlife Fund India are the two implementing partners of the National Tiger Conservation Authority for CATS assessment in India.