Island Coastal Zone Regulation (ICRZ), 2019: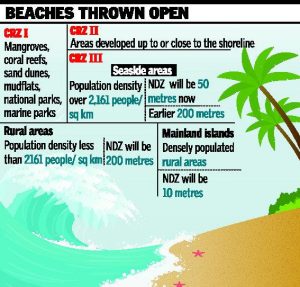 The Ministry of Environment, Forest and Climate Change has approved an exemption to the laws governing the regulation of coastal zones and has paved the way for gas-powered plants to be set up at Andaman and Nicobar islands.
A 50 MW Liquefied Natural Gas(LNG)-based power project will be commissioned at Hope Town, Port Blair. It will be a dual-fuel power plant—that runs on both diesel and LNG.
The plant will be developed by the National Thermal Power Corporation(NTPC).
Activists say, this permission violates the Island Coastal Zone Regulation (ICRZ), 2019, which limits infrastructure development on vulnerable coastal stretches.
ICRZ:
In 2019, the Government of India notified the Island Coastal Zone Regulation(ICRZ).
It declared certain coastal stretches as 'Coastal Regulation Zone' and imposed restrictions on setting up and expanding industries, operations and processes within such protected zones.
In 2021 National Coastal Zone Management Authority(NCZMA) recommended amending the ICRZ rules to allow gas-based power plants within the Island Coastal Regulation Zone area only in islands with geographical areas greater than 100 sq. km.
This was needed to meet the energy requirement of the islanders while reducing the dependency on highly polluting sources such as conventional Diesel Generator(DG) sets.
Accepting these recommendations, the Government of India amended the ICRZ rules.