Snake Island: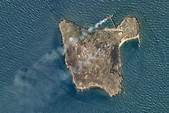 Russian forces abandoned the strategic Black Sea outpost of Snake Island, in a major victory for Ukraine that could loosen the grip of Russia's blockade on Ukrainian ports.
Snake Island, also known as Serpent Island or Zmiinyi Island, is an island belonging to Ukraine located in the Black Sea, near the Danube Delta, with an important role in delimiting Ukrainian territorial waters.
On 24 February 2022, two Russian navy warships attacked and captured Snake Island.
On 30 June 2022, Ukraine said that it had pushed Russian forces from the island.
The bare rocky outcrop overlooks sea lanes to Odesa, Ukraine's main Black Sea port, where Russia is blocking food cargos from one of the world's leading grain suppliers.