Istanbul Convention On Violence Against Women: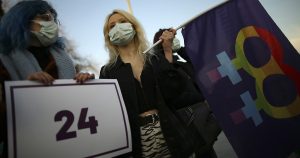 Turkey's controversial exit from Istanbul Convention on Violence Against Women on July 1 has received severe criticism from various quarters and has led to protests across the country.
The Council of Europe established the Istanbul Convention, a human rights treaty, with the aim to prevent and prosecute all forms of violence against women, promote gender equality and ensure protection and rehabilitation of women who are victims of violence.
The treaty was opened for ratification in May 2011. From the European Union, 34 countries signed this treaty.
On November 24, 2011, Turkey became the first country to ratify the Istanbul convention and, on March 8, 2012, it incorporated the Istanbul Convention into domestic law.
some officials of Erdogan's nationalist party claimed that the convention demeans traditional family structure, promotes divorces and encourages acceptance of LGBTQ in the society.
Violence against women and honour killings are persistent in Turkey.
The country ranks 133 out of 156 countries in the Global Gender Gap report 2021. According to UN women data, 38 per cent of women in Turkey face violence from a partner in their lifetime.