Dedicated Freight Corridor: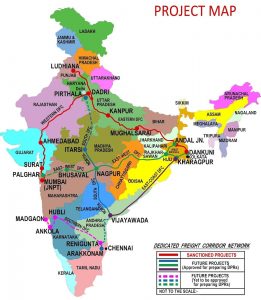 The Indian Army has successfully conducted trial runs of military trains loaded with vehicles and equipment on the dedicated freight corridor.
It ferried heavy equipment from New Rewari station in Haryana to New Phulera in Rajasthan.
Dedicated Freight Corridor
Dedicated Freight Corridor Corporation of India is constructing the Western DFC (1506 Route km) and Eastern DFC (1875 route km including Sonnagar-Dankuni PPP Section).
The EDFC starting from Sahnewal near Ludhiana (Punjab) will pass through the states of Punjab, Haryana, Uttar Pradesh, Bihar, and Jharkhand to terminate at Dankuni in West Bengal.
The Western Corridor connecting Dadri in Uttar Pradesh to Jawaharlal Nehru Port (JNPT) in Mumbai will traverse through the states of UP, Haryana, Rajasthan, Gujarat, and Maharashtra of WDFC.
The following two (2) sections of DFC have been commissioned and dedicated to the nation by Hon'ble Prime Minister of India:-

Bhaupur to Khurja (351 km) of Eastern Dedicated Freight Corridor (EDFC) on January 29, 2020.
Rewari to Madar (306 km) of Western Dedicated Freight Corridor (WDFC) on January 7, 2021.