Jallikattu: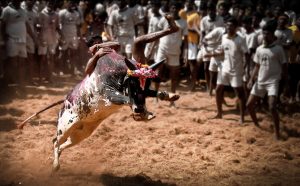 With a steep rise in the daily cases of COVID-19, the district administration in Vellore, Tiruvannamalai, Ranipet and Tirupattur, have banned the conduct of Jallikattu events, ahead of Pongal festival, as part of safety measures.
The bull-taming sport is popular in Madurai, Tiruchirappalli, Theni, Pudukkottai and Dindigul districts known as the Jallikattu belt.
Jallikattu is celebrated in the second week of January, during the Tamil harvest festival, Pongal.
A tradition over 2,000 years old, Jallikattu is a competitive sport as well as an event to honour bull owners who rear them for mating.
It is a violent sport in which contestants try to tame a bull for a prize; if they fail, the bull owner wins the prize
Jallikattu is considered a traditional way for the peasant community to preserve their pure-breed native bulls.
At a time when cattle breeding is often an artificial process, conservationists and peasants argue that Jallikattu is a way to protect these male animals which are otherwise used only for meat if not for ploughing.
In January 2017, massive protests erupted across Tamil Nadu against the ban, with Chennai city witnessing a 15-day-long Jallikattu uprising.
The same year, the Tamil Nadu government released an ordinance amending the central Act and allowing Jallikattu in the state; this was later ratified by the President.
The amendment was subsequently approved by the President of India, effectively overturning the Supreme Court ban and allowing the sport to be played without any legal hurdle.
PETA challenged the state move, arguing it was unconstitutional (Article 29(1)).
In 2018, the Supreme Court referred the Jallikattu case to a Constitution Bench, where it is pending now.