Automobile Industry In India: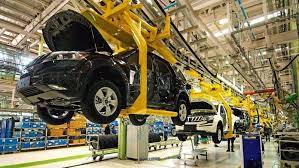 The Union Minister of Commerce and Industry addressed the 62nd Automotive Component Manufacturers Association (ACMA) Annual Session.
The Theme of the session was 'Future of Mobility – Transforming to be Ahead of Opportunity'.
The ACMA is the apex body representing the interest of the Indian Auto Component Industry. Its membership of over 850 manufacturers contributes to more than 85% of the auto component industry's turnover in the organized sector.
Highlights of the Session:
The 5-point action agenda was given for the Automobile Industry:

To Focus on Quality in order to become globally competitive and reduce dependence on imports.
To Think holistically and have a larger vision to engage with others in the spirit of openness and competitiveness.
To Give emphasis on Value Addition.
To Exit the Uncompetitive market and explore new market opportunities in the sectors where we can be competitive.
To Think big and set aggressive targets and ambitions for the industry.

Further, the government emphasize that future of the Automotive Component Industry rests on being more Connected, focusing on Convenience, orienting towards Clean Energy and clean mobility and using Cutting-edge technology.