Jangi Thopan Powari Hydroelectricity Project : Protest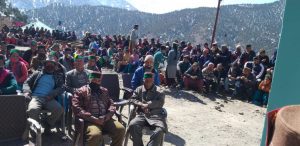 "No Means No" campaign launched by a group of youngsters against setting up of new hydel projects in Kinnaur, Himachal Pradesh asking candidates of various political parties contesting in the upcoming Assembly election to give an affidavit, citing their proposed steps to deal with stopping construction of new hydel projects in Kinnaur.
It is a proposed 804 megawatt project over the Satluj River.
The run-of-the-river (ROR) project envisages construction of a concrete gravity dam of ±88 metre high above the deepest foundation level across river Satluj near Jangi village, and underground powerhouse on the right bank upstream of Tehsil boundary (Kashang Nallah).
The diversion of water will involve construction of a 12-km-long tunnel.
Construction of the dam will result in the submergence of about 156.2917 ha of land, out of which 143.2093 ha is forest land and 13.0824 ha is private.
The length of the reservoir will be 10.6 km.
Kinnaur district is mainly marked by its cold desert, tribal population, fragile topography, rich and diverse culture, apple orchards, off-season vegetables and the Satluj River.
The river has been dammed at multiple places along the valley to create an additional feature to Kinnaur's identity as Himachal's hydropower hub, which locals believe is a malediction.
An integral part of the old Hindustan-Tibetan Route, Jangram Valley, lies on the right bank of the Satluj river in the district.
Another major impact is connected to the forest of Chilgoza pine, which has a patchy distribution across arid mountain valleys in Afghanistan, Pakistan and India.
Kinnaur has the largest Chilgoza forests, covering an area of around 2,000 hectares.
Chilgoza pine is well-known for its edible seeds and is rich in carbohydrates, proteins, and other medicinal values.
It is classified as an endangered and rare tree species.
Jangi, one of the affected Gram Panchayat from this JTP HEP, has one of the largest patches of chilgoza in the country, according to Himachal Pradesh's State of Environment report.