Joshimath Declared a Landslide Subsidence Zone: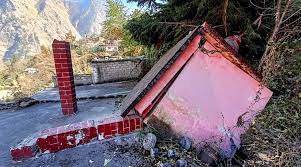 Due to land subsidence, Joshimath – a key transit point for tourists travelling to Badrinath and Hemkund Sahib – developed cracks, causing panic and protests among the local population.
Joshimath has been declared a landslide-subsidence zone and over 60 families living in uninhabitable houses in the sinking town have been evacuated to temporary relief centres.
Cracks on walls and buildings were first reported in 2021, as Chamoli district of Uttarakhand experienced frequent landslides and flooding.
As per reports, the Uttarakhand government's expert panel in 2022 found that several pockets of Joshimath are "sinking" owing to man-made and natural factors.
It was found that a gradual settling or sudden sinking of the earth's surface due to the removal or displacement of subsurface materials has induced structural defects and damage in almost all wards of the city.
Joshimath is a hilly town located on the Rishikesh-Badrinath National Highway (NH-7) in Chamoli district of Uttarakhand.
The city serves as a tourist town as it acts as an overnight rest stop for people visiting Badrinath, Auli, Valley of Flowers, and Hemkund Sahib, among other important religious and tourist locations in the state.