Joyride At The Statue Of Unity: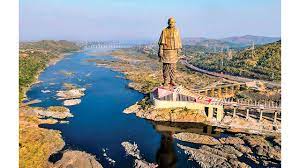 The government has decided to restart the suspended helicopter joyride at the Statue of Unity.
The Statue of Unity was built in honor of Sardar Vallabhbhai Patel.
Inaugurated On 31st October, 2018.
It marked the 143rd birth anniversary of Sardar Patel.
The Statue of Unity is the tallest statue in the world. It stands at 182-metre (600 feet aprox.)
It is taller than China's Spring Temple Buddha statue and almost double the height of the Statue of Liberty (93 meters tall) in the United States.
In 2020 it was added to the 'Eight Wonders' of the Shanghai Cooperation Organization (SCO).
It is Located in Sadhu Bet Island, Gujarat.
The island is on the Narmada River.
It is designed by Padma Bhushan recipient sculptor Ram V Sutar.
The intricate bronze cladding work was done by a Chinese foundry, the Jiangxi Toqine Company (JTQ).