Kai Chutney: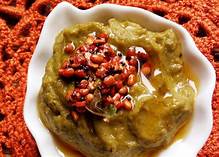 In Odisha, scientists are now fine-tuning their research to make a presentation for the Geographical Indications (GI) registry of Kai chutney.
Applied under food category, the GI tag will help develop a structured hygiene protocol in the preparation of Kai chutney for standard wider use.
Geographical Indications labels enhance the reputation and value of local products and support local businesses.
People often keep a safe distance from red weaver ants as their sting inflicts a sharp pain and reddish bumps on the skin.
Despite this, weaver ants are popular among the tribes of Mayurbhanj district in Odisha for the mouth-watering dish made of them — the Kai chutney.
This savoury food item, rich in proteins, calcium, zinc, vitamin B-12, iron, magnesium, potassium, sodium, copper, fibre and 18 amino acids, is known to boost the immune system.
Weaver ants, Oecophylla smaragdina, are abundantly found in Mayurbhanj throughout the year.
They make nests with leaves of host trees.