Kalakkad Mundanthurai Tiger Reserve : Rare Moth Species Spotted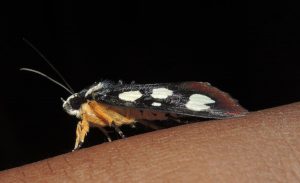 Researchers from Tamil Nadu have spotted a rare moth species for the first time in India in the buffer zone of Kalakkad–Mundanthurai Tiger Reserve (KMTR) after it was last sighted 127 years ago in Sri Lanka in 1893.
Mimeusemia ceylonica is a moth species belonging to the subfamily Agaristinae and family Noctuidae.
KMTR was created in 1988 by combining the existing and contiguous Kalakkad and Mundanthurai wildlife sanctuaries.
Kalakkad – Mundanthurai was declared as the first Tiger reserve in Tamil Nadu.
It is also part of the Agasthyamala Biosphere Reserve.
Apart from tigers, the forest is home to Sambar, spotted deer, elephants, leopards, wild dogs, etc., and a large number of bird species, reptiles, etc.