Cultivation Of Dragon Fruit: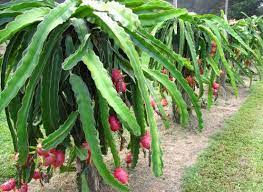 Under the Mission for Integrated Development of Horticulture (MIDH), a roadmap is being prepared for the cultivation of dragon fruit in the identified potential area to increase the production of exotic and niche area fruits.
The target for area expansion under MIDH for Kamalam is 50,000 ha. in 5 years.
Dragon Fruit is a herbaceous perennial climbing cactus widely known as Pitaya, has its origin in Southern Mexico, Central America and South America.
Its flowers are hermaphrodites (male and female organs in the same flower) in nature and open at night.
It grows in all kinds of soil and does not require much water.
The plant sustains yield for more than 20 years, is high in nutraceutical properties(medicinal effects) and good for value-added processing industries.
It goes by many names, including pitaya, pitahaya, and strawberry pear.