Kalakkad-Mundanthurai Tiger Reserve: Restrict The Entry Of Outsiders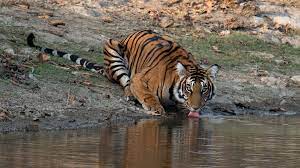 The Madurai Bench of the Madras High Court recently ordered notice to the State on a public interest litigation petition that sought a direction to restrict the entry of outsiders and vehicles inside Kalakkad-Mundanthurai Tiger Reserve.
Kalakkad-Mundanthurai Tiger Reserve is located in the Southern Western Ghats in the Tirunelveli and Kanyakumari districts of Tamil Nadu.
It was established as a Tiger Reseve in 1988.
This reserve is a mixture of three main sanctuaries: Kalakad Sanctuary, Mundanthurai Sanctuary, and a part of Kanyakumari Sanctuary.
Nestled between Kerala and Tamil Nadu, the Agastya Malai Hill Range forms the core area of the sanctuary and is part of one of the world's 18 biodiversity hotspots.
The reserve is also known as the "River Sanctuary", with as many as 14 rivers originating from this Tiger Reserve.