Nobel Prize In Literature 2023: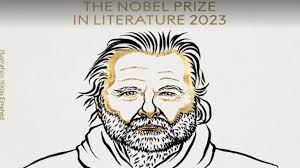 The Nobel Prize in Literature 2023 was awarded to Jon Fosse, "for his innovative plays and prose which give voice to the unsayable".
The Nobel Prize in Literature is awarded by the Swedish Academy, Stockholm, Sweden.
The Nobel Prize amount for 2023 is set at Swedish kronor (SEK) 11.0 million per full Nobel Prize.
Jon Fosse, born in 1959, is widely considered one of the most important writers of our time. For almost forty years he has written novels, plays, poems, stories, essays, and children's books.
His award-winning work has been translated into more than fifty languages, and his plays have been staged over a thousand times all over the world.