Karlapat Wildlife Sanctuary: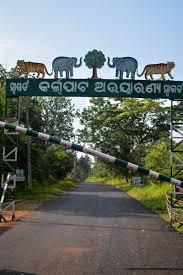 Six elephants died of Haemorrhagic Septicaemia (HS) in Karlapat Wildlife Sanctuary located in Odisha's Kalahandi district.
Haemorrhagic septicaemia (HS) is a disease which infects animals that come in contact with contaminated water or soil by contagious bacteria (Pasteurella multocida).
In this disease the respiratory tract and lungs of the animals are affected, leading to severe pneumonia.
It mainly affects water buffalo, cattle and bison with a high mortality rate in infected animals.
Recently, around 40 buffaloes had succumbed to the infection in Odisha's Kendrapara.
The disease generally spreads in the period right before and after the monsoons.
Karlapat Wildlife Sanctuary:
It is spread over 175 square kilometre area in Odisha's Kalahandi district.
Vegetation: Dry Deciduous Forest.
Fauna: Mammals: Elephant, Leopard, Gaur, Sambar, Barking deer, Indian wolf, Malabar giant squirrel, Pangolin, etc.
Birds: Peacock, Hornbill, Red jungle fowl, etc.
Reptilians: Mugger, crocodile, monitor lizard etc.
Flora: Sal, Bija, Bamboo, medicinal plants, etc.
Water Body: Phurlijharan waterfall is located within the sanctuary.