Increase In Blackbuck Population: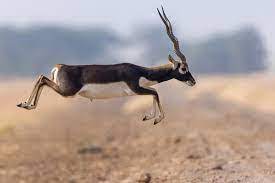 A recent study conducted by the Indian Institute of Science (IISc) has shed light on how blackbuck in India has fared in the face of natural and human-induced challenges to their survival.
Researchers found that an ancestral blackbuck population first split into two groups: the northern and the southern cluster.
The eastern cluster even though geographically close to the northern cluster seems to have emerged from the southern cluster.
The study shows that despite all odds, male blackbuck appears to disperse more than expected, thus contributing to gene flow in this species.
Females, on the other hand, appear to stay largely within their native population ranges, which the researchers inferred from unique mitochondrial signatures in each population.
The data also showed an increasing trend in blackbuck population numbers as compared to the recent past.
Blackbuck:
It is a species of antelope native to India and Nepal.
While males have corkscrew-shaped horns and black-to-dark brown coats, the females are fawn-coloured.
The animals are mainly seen in three broad clusters across India the northern, southern, and eastern regions.
It is widespread in the states of Rajasthan, Gujarat, Madhya Pradesh, Tamil Nadu, Odisha, and other areas throughout peninsular India.
Protection status:

IUCN Red List: Least concerned.
Wildlife Protection Act of 1972: Schedule I
CITES: Appendix III