Neerakshi : Underwater Vehicle For Mine Detection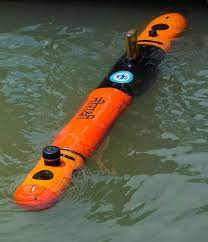 India recently launched 'Neerakshi'- Autonomous Underwater Vehicle for mine detection.
Neerakshi is an autonomous underwater vehicle (AUV) designed to detect mines.
Named "Neerakshi" meaning "Eyes in the Water" is first of its kind in the country and is expected to undergo user trials by the Indian Navy, Coast Guard, and Army before a commercial launch.
It is a collaboration of Kolkata-based warship maker Garden Reach Shipbuilders and Engineers (GRSE) Ltd and MSME entity Aerospace Engineering Private Ltd (AEPL).
The AUV, currently capable of mine detection, is part of GRSE's broader ambitions to create autonomous sea surface vehicles, sea-based drones, and explore green propulsion technologies.
It can be used for a variety of functions ranging from mine detection to mine disposal to underwater survey,
It is a 2.1-metre long cylindrical unmanned vehicle about a foot in diameter and weighing around 45 kg.
It has an endurance of nearly 4 hours, and is capable of operating up to a depth of 300m.