Kuvempu Award 2020: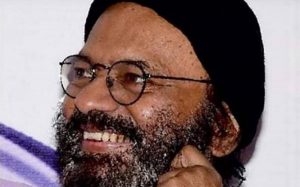 Odia poet Dr. Rajendra Kishore Panda has been selected for the Kuvempu Rashtriya Puraskar (award) 2020.
Dr. Panda, born in 1944, is a poet and novelist from Odisha. He has published 16 poetry collections and a novel.
He was presented the Gangadhar National Award in 2010, and the Sahitya Akademi Award in 1985.
It is a national award instituted in memory of the late poet laureate Kuvempu.
The award is given annually to a writer who has contributed in any of the languages recognised by the Constitution of India.
The award carries a cash award of Rs. 5 lakh, a silver medal and a citation.
Kuvempu:
Kuppali Venkatappa Puttappa, popularly known by his pen name Kuvempu, was an Indian poet, playwright, novelist and critic.
He is widely regarded as the greatest Kannada poet of the 20th century.
He was the first Kannada writer to be decorated with the Jnanpith Award for his version of the Ramayana titled 'Sri Ramayana Darshanam.'