Labour-Intensive Bharatiya Economic Model : RSS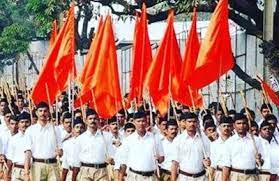 The RSS has passed a resolution calling for a labour-intensive Bharatiya Economic Model in view of rising unemployment in the country.
Society must come forward and participate in building an Atmanirbhar Bharat where the economic model is based on Indian values.
The model should be human-centric, labour intensive, eco-friendly and lay stress on decentralisation and equitable distribution of benefits.
It should augment village economy, microscale, small scale and agro-based industries.
Thrust areas as rural employability, unorganised sector employment and employment of women as solutions to unemployment.
It also urged the youth to come out of the mentality of seeking only jobs. An environment conducive to encouraging entrepreneurship should be created by educating and counselling people, especially youth.
India's unemployment rate has been rising, and when the effects of demonetisation and the pandemic have hit the economy and dried up opportunities.
The unemployment rate went up to 7.91% in December 2021 from 6.3% in 2018-19 and 4.7% in 2017-18.
The manufacturing sector is said to have lost 9.8 million jobs between 2019-20 and December 2021.