Largest Display Of Lambani Items : Guinness World Record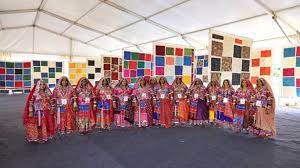 As part of the third G20 culture working group (CWG) meeting in Hampi, a Guinness world record was created for the 'largest display of Lambani items.
Over 450 women artisans and cultural practitioners from Lambani community inhabiting Karnataka came together to create embroidered patches with Sandur Lambani embroidery, creating 1,755 patchwork pieces.
The Lambani embroidery is an intricate form of textile embellishment characterised by colourful threads, mirror-work and stitch patterns.
It is practised in several villages of Karnataka such as Sandur, Keri Tanda, Mariyammanahalli, Kadirampur etc.
The Lambani craft tradition involves stitching together small pieces of discarded fabric to create a beautiful fabric.
This embroidery had also found a place in the list of products with Geographic Indication (GI) tag in the country.
The Lambanis are also known as Banjaras and most of them are found in Telangana, Andhra Pradesh and Karnataka states in South India.