LCA Tejas: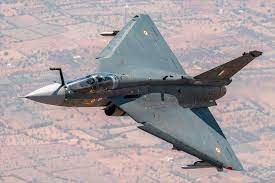 The Defence Research and Development Organisation (DRDO) has successfully conducted a maiden flight test of the Power Take off (PTO) Shaft on Light Combat Aircraft (LCA Tejas) Limited Series Production (LSP) -3 aircraft in Bengaluru.
LCA Tejas is the lightest, smallest and tailless multi-role supersonic fighter aircraft in its class.
This aircraft is designed to carry a range of air-to-air, air-to-surface, precision-guided, weapons.
It has the air-to-air refuelling capability.
The maximum payload capacity of Tejas is 4000 kg.
Speed: Mach 1.8.
Power Take off (PTO) shaft:
It is indigenously designed and developed by the Combat Vehicles Research & Development Establishment (CVRDE), Chennai of Defence Research and Development Organisation (DRDO).
It was designed with a unique innovative patented 'Frequency Spanning Technique' which enables it to negotiate different operating engine speeds.
The lightweight high-speed, lubrication-free PTO shaft transmits higher power between the aircraft engine gearbox and Aircraft Mounted Accessory Gear Box while accommodating misalignments that arise in the drive line.