LEAF (Lowering Emissions by Accelerating Forest Finance) Coalition: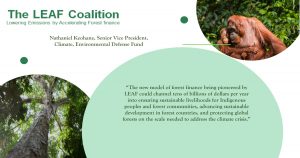 LEAF (Lowering Emissions by Accelerating Forest Finance) Coalition was announced at the Leaders Summit on Climate, 2021.
LEAF coalition will be one of the largest ever public-private efforts to protect tropical forests and intend to mobilize at least USD 1 billion in financing to countries committed to protecting their tropical forests.
About LEAF Coalition:
It is a collective of the governments of the USA, United Kingdom and Norway.
As it is a public-private effort, thus also supported by transnational corporations (TNCs) like Unilever plc, Amazon.com, Nestle, Airbnb etc.
A country willing to participate would need to fulfil certain predetermined conditions laid down by the Coalition.
The results-based financing model will be used in LEAF.
The model weighs on work by the Environmental Defense Fund over two decades, in collaboration with Indigenous communities, forest peoples, Brazilian and US NGOs, and other partners, to protect the Amazon and tropical forests globally.
Performance will be measured against the TREES Standard (The REDD+ Environmental Excellence Standard)
Reducing Emissions from Deforestation and Forest Degradation
REDD+ aims to achieve climate change mitigation by incentivizing forest conservation.
It monetises the value of carbon locked up in the tropical forests of most developing countries, thereby propelling these countries to help mitigate climate change.
REDD+ was created by the United Nations Framework Convention on Climate Change (UNFCCC).