Lunar Eclipse Blood moon: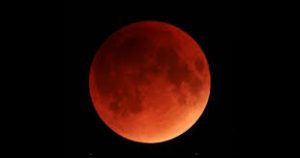 On 16 May 2022, a total lunar eclipse or Chandra Grahan will occur over South America, most of North America and parts of Europe and Africa.
This will be the second eclipse of the year, after the April 30/May 1 partial solar eclipse that was visible in parts of the southern hemisphere.
During this, the first Blood Moon of 2022 will also become more clearly visible.
During a total lunar eclipse, the Moon usually turns a deep, dark red because it is illuminated by light that has passed through the Earth's atmosphere and has been bent back towards the Moon by refraction.
A total lunar eclipse occurs when the Moon and the Sun are on exact opposite sides of Earth.
Blood Moon:
The red colour is because of the way light travels through the Earth's atmosphere. Sunlight is made of several colours and they all have different wavelengths.
Depending on the way they travel through our atmosphere, we see different colours. That's why the sun and sky have different colours during sunrise and sunset.
Blues and purples have shorter wavelengths and scatter in our atmosphere, giving the sky its inky colour, but reds and oranges have the highest wavelengths and pass through our atmosphere before it is bent or refracted around Earth, hitting the surface of the Moon and making it red.
Supermoon:
A supermoon occurs when the Moon's orbit is closest to the Earth at the same time that the Moon is full. In a typical year, there may be two to four full supermoons and two to four new supermoons in a row.