Exercise Kavach: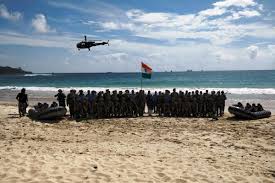 A large-scale Joint Military exercise 'Exercise Kavach' involving assets of the Indian Army, Indian Navy, Indian Air Force, and Indian Coast Guard is being conducted in the coming week under the aegis of the Andaman and Nicobar Command (ANC).
The exercise involves synergised application of maritime surveillance assets, coordinated air and maritime strikes, air defence, submarine and landing operations.
Concurrently Joint Intelligence Surveillance and Reconnaissance (ISR) exercise involving various technical, electronic and human intelligence from three services will be conducted.
The tri-services exercise aims to fine-tune joint war-fighting capabilities and SOPs towards enhancing operational synergy.
The Andaman and Nicobar Command (ANC) is the only Joint Forces Command of the country.