6th Eastern Economic Forum (EEF):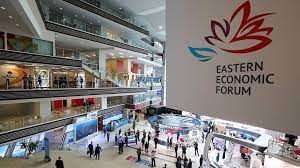 The Prime Minister of India (PM) addressed the plenary session of the 6th Eastern Economic Forum (EEF) via video-conferencing.
The PM highlighted the importance of India-Russia relations and potential areas of cooperation in line with the 'Special and Privileged Strategic Partnership'.
Highlights of PM's Address:
Applauded Russia's vision for the development of the Russian Far East region and reiterated India's commitment (as part of its "Act East Policy") of being a reliable partner of Russia in this regard.
Highlighted the significance of health and pharma sectors as important areas of cooperation that have emerged during the pandemic.
Referred to other potential areas of economic cooperation including diamond, coking coal, steel, timber etc.
About Eastern Economic Forum:
EEF was established by the decree of the President of the Russian Federation in the year 2015.
It takes place each year in Vladivostok, a city in Russia.
It serves as a platform for the discussion of key issues in the world economy, regional integration, and the development of new industrial and technological sectors, as well as of the global challenges facing Russia and other nations.
The Forum's business programme includes a number of business dialogues with leading partner countries in the Asia-Pacific region, and with ASEAN, a key integration organization of dynamically developing nations in Southeast Asia.
Over the years, it has emerged as an international platform for discussing the strategy for developing political, economic and cultural ties between Russia and Asia Pacific.