Swami Sahajanand Saraswati: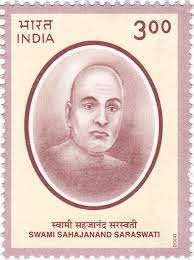 The Union Home Minister will take part in a celebration commemorating farmer leader Swami Sahajanand Saraswati's birth anniversary in Patna, Bihar.
Swami Sahajanand Saraswati was an ascetic, a nationalist and a peasant leader of India.
Although born in present-day UP, his social and political activities focussed mostly on Bihar in the initial days, and gradually spread to the rest of India.
The Bihar Provincial Kisan Sabha (BPKS) was founded by Saraswati in 1929 to address peasants' complaints about zamindari attacks on their occupancy rights, and served as the foundation for the farmers' movements in India.
The All-India Kisan Sabha (AIKS) was established at the Lucknow session of the Indian National Congress in April 1936, with Saraswati chosen as its first President.
Subhash Chandra Bose and the All India Forward Bloc decided to observe April 28 as All-India Swami Sahajanand Day in protest of his arrest by the British Raj during the Quit India Movement.