Exercise SLINEX – 2023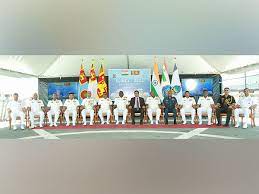 The 10th edition of the maritime Exercise SLINEX – 2023 recently began in Colombo.
Exercise SLINEX – 2023 is an annual bilateral maritime exercise between Indian Navy and Sri Lanka Navy.
SLINEX – 2023 is the 10th edition of the annual exercise.
It will aim to enhance interoperability, improve mutual understanding and exchange best practices and procedures in multi-faceted Maritime operations between both Navies.
The exercise is being conducted in two phases, the Harbour Phase followed by the Sea Phase.
The Indian Navy will be represented by INS Kiltan (Advanced Anti Submarine Warfare Corvette) and INS Savitri (Offshore Patrol Vessel), while the Sri Lanka Navy will have SLNS Gajabahu (Advance Offshore Patrol Vessel) and SLNS Sagara (OPV) in the exercise.
SLINEX is in consonance with India's policy of 'Neighbourhood First' and Prime Ministers' vision of 'Security and Growth for All in the Region (SAGAR)'.