Mahatma Gandhi Green Triangle: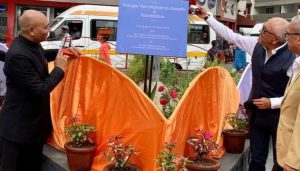 Mahatma Gandhi Green Triangle' has been unveiled in Madagascar to mark Azadi ka Amrit Mahotsav.
The word green in the plaque (a flat piece of stone or metal) signifies their commitment to sustainable development and saving the environment.
The naming of this park as Mahatma Gandhi Green Triangle is a tribute to Mahatma Gandhi.
Gandhi was a 'Pravasi' who returned to India from South Africa, led India's freedom struggle.
Madagascar has a large diaspora from the Indian state of Gujarat and it is fitting that a green triangle named after Gandhi, who hailed from Porbandar in the state, is being unveiled in the capital of Madagascar (Antananarivo).
Madagascar voiced appreciation for efforts by the Indian Embassy in greening the area, saying it meets the objective of the Urban Municipality of Antananarivo to create the maximum green space in the capital city of Madagascar.