Mass Fish Death In The Kameng River In Arunachal Pradesh: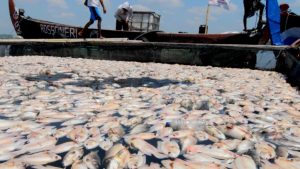 Studies have indicated that landslides caused by an earthquake of 3.4 magnitude close to the border with China led to mass fish death in the Kameng river in Arunachal Pradesh.
The landslips dumped several tonnes of mud and rock into the river, substantially reducing the flow of water.
The river turned blackish due to very high turbidity resulting in low dissolved oxygen that killed the fish.
The Kameng River:
It is the right-bank tributary of the Brahmaputra river.
It rises in the Tawang district in the eastern Himalayas. It forms the border between the East Kameng district and the West Kameng district of Arunachal Pradesh.
In Assam, it flows through the Sonitpur district before joining the Brahmaputra at Tezpur.
The Kameng River consists of two sections- the west consisting of the Akka hills and resided by the Akka tribes and the east consisting of the Dafla hills resided by the Daphla tribe.
The Kaziranga National Park and the Pakkhui Wildlife Sanctuary are located near the Kameng river.