Arunachal Pradesh – Assam Border Dispute: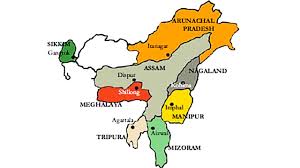 Arunachal Pradesh Chief Minister Pema Khandu and his Assam counterpart Himanta Biswa Sarma have decided to form district-level committees for settling their inter-state boundary disputes.
Recently, the Union government gave the seal of approval to an agreement to partially resolve the disputed sectors on the Assam-Meghalaya border.
Assam has had boundary disputes with all the north-eastern States that were carved out of it.
Arunachal Pradesh and Mizoram were separated from Assam as Union Territories in 1972 and as States in 1987.
None of the new States accepted the "constitutional boundary" that they said was dictated by the partisan administration of undivided Assam without consulting the tribal stakeholders.
The issue with Arunachal Pradesh has more to do with a 1951 report prepared by a sub-committee headed by Assam's first Chief Minister, Gopinath Bordoloi.
Arunachal Pradesh and Assam have disputes at about 1,200 points along their 804 km boundary.
The apex court appointed a local boundary commission in 2006 headed by one of its retired judges.
In its September 2014 report, this commission recommended that Arunachal Pradesh should get back some of the areas transferred in 1951 besides advising both the States to find a middle path through discussions.