Emvolio: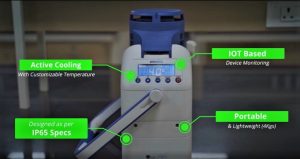 DBT-BIRAC supported startup Blackfrog Technologies has developed Emvolio.
Emvólio is a portable, battery-powered medical-grade refrigeration device that improves the efficiency of the immunization by strictly maintaining preset temperature for up to 12 hours, thus enabling the safe and efficient transportation of vaccines to the last mile.
Emvólio has a 2-litre capacity, enabling it to carry 30-50 vials, the standard for a daylong immunization campaign.
The device also includes continuous temperature monitoring, location tracking, state-of-charge indication, communication with headquarters via live-tracking, and vital statistics for improved coverage.
Blackfrog is an ISO-13485 certified manufacturer of medical devices, and Emvólio has been designed in accordance with WHO-PQS E003 standards.
About BIRAC:
Set up by the Department of Biotechnology (DBT), Government of India, Biotechnology Industry Research Assistance Council (BIRAC), is a not-for-profit Section 8, Schedule B, Public Sector Enterprise.