Men's World Boxing Championships 2023: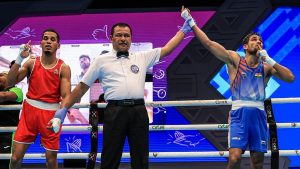 Prime Minister of India has conveyed his heartfelt congratulations to Deepak Bhoria, Hussamuddin, and Nishant Dev for their remarkable achievement in the Men's World Boxing Championships held in Tashkent.
Deepak Bhoria (51kg) won silver, Hussamuddin (57kg) and Nishant Dev (71kg) won bronze medals in the semifinals.
The Men's World Boxing Championships, taking place from April 30 to May 14, 2023, in Uzbekistan, is a prominent event that brings together more than 400 boxers from across the globe, competing in 13 weight categories to claim victory and honor.
It is Organized by the International Boxing Association (IBA) and the Boxing Federation of Uzbekistan, with the support of the Government of Uzbekistan, the tournament not only showcases top-notch boxing skills but also serves as a platform to celebrate the vibrant culture and warm hospitality of Uzbekistan.