Miniature sculpture of the Buddha found in Udupi: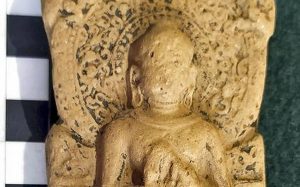 The Buddha was found among debris removed from an abandoned well at Alembi in Udupi district in Karnataka.Traditionally, the ancient Tulu Nadu was said to be ruled by the Kadambas of Banavasi. The Guptas and the Kadambas of Banavasi had matrimonial relations. Hence, the discovery of the Buddha sculpture is not an uncommon thing.
It is nine centimetres high, five centimetres wide and two centimetres thick.
The Buddha is seated on a lotus pedestal in Dharma Chakra Pravarthana Mudre.
Below the seat, six disciples are seated on either side of the Dharma Chakra.
The Lord wears clothes and ear-rings.
A small Ushnisha is shown on the top of the head.
In the back of the head, a beautifully carved round lobe is seen.
On the top corners, two Yakshas and, on either side of his back, two winged horses have been carved out.
The sculpture is in the Gupta style.