Vesak Celebration: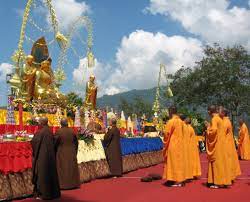 The Prime Minister addressed "Virtual Vesak Global Celebrations" on Buddha Purnima.
The event is being organized by the Ministry of Culture in collaboration with the International Buddhist Confederation (IBC) and will witness the participation of all the supreme heads of the Buddhist Sanghas from around the world.
Buddha Purnima:
It is celebrated to mark the birth of Gautam Buddha, the founder of Buddhism.
It is also known as Vesak. In 1999, it became an UN-designated day, to acknowledge the contribution of Buddhism to society.
It is considered a 'triple-blessed day' – as Tathagata Gautam Buddha's birth, enlightenment, and Maha Parnirvana.
Buddha Purnima falls on a full moon night, usually between April and May, and it is a gazetted holiday in India.
Many devotees visit Mahabodhi Temple, a UNESCO World Heritage Site, located in Bodh Gaya, Bihar, on this occasion.
Bodhi Temple is the location where Lord Buddha is said to have attained enlightenment.
International Buddhist Confederation (IBC) is the biggest religious Buddhist confederation.
The purpose of this body is to create a role for Buddhism on the global stage so as to help to preserve heritage, share knowledge, and promote values, and represent a united front for Buddhism to enjoy meaningful participation in the global discourse.
In November 2011, New Delhi was host to the Global Buddhist Congregation (GBC), where the attendees unanimously adopted a resolution to form an international umbrella body – the International Buddhist Confederation (IBC).
HQ: Delhi, India.